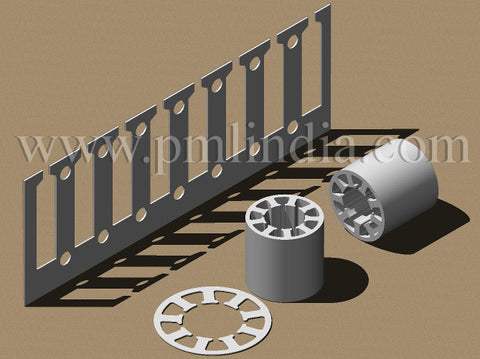 Components in 50% CoFe Alloy
Product Description
For the applications where high flux density at minimum weight is a prerequisite, designers' first choice is 50% Cobalt Iron alloy. It has very high magnetic saturation (up to about 2.3 T) and low coercivity.
Besides very precise stamping process, components made in Cobalt Iron need comprehensive hydrogen heat treatment process which enhances Magnetic performance. Magnetic and Physical properties are optimized as per application needs with variation in annealing temperature.
General applications of the Cobalt Iron Alloy include Stator and Rotor lamination for Aircraft Engines, Motors etc…
PML's Strengths:
QMS: Compliant to IATF 16949, AS9001D and EMS 14001.
Highly knowledgeable team of Metallurgical, Electrical, Mechanical Engineers, Technical experts and Tool designers.
Design simulation capabilities in collaboration with our technical partners' maglab (representative & development partner) and Melexis (Switzerland).
In-house Punching Facility.
Hydrogen annealing furnaces with class II (+/-6 Deg.) capability. For details, please visit "Contract Annealing" section.
In-house magnetic measurement capabilities: Koerzimat Machine, B-H Loop plotter, customized set ups for checking properties from 50Hz to 50 KHz at 15 mA to 1200A.
Implementation of SPC techniques to achieve Cpk of 1.67.