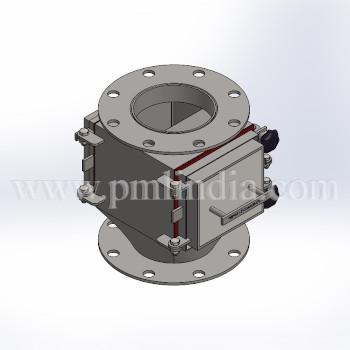 Plate Type Magnetic Chute
Plate Type Magnetic Chutes with plates are for trapping ferrous particles mixed with dry, granular or powdered materials. They are generally used where flowing material characteristics are sticky and non-free-flowing.These systems are easy to clean and maintain.
Industries Using Magnetic Chutes:
Plastics
Food
Spices
Chemicals
Dyes & Powder Pigments
Pharmaceutical industry
Standard PML Magnet Chutes:
High intensity Easy-Clean Plate housing Magnet Permissible Max. Operating Temp. 80˚ C
Model
Inlet & outlet Dia.(mm)
Total HT.(mm)
Attraction Distance
ECPHM 1
150
300
4"
ECPHM 2
200
300
4"
ECPHM 3
250
400
4"
ECPHM 4
300
400
4"
ECPHM 5
350
400
4"
(Peak flux density value 4,000 ± 500 Gauss, when measured on separation frame)
Dimensions of Inlet & Outlet Connecting Flanges
Model
Flange O.D.(mm)
Hole Dia.(mm)
No. Of Holes
Hole PCD(mm)
Flange THK.(mm)
ECPHM 1
279.4
22.2
8
241.3
6
ECPHM 2
342.9
22.2
8
298.4
6
ECPHM 3
406.4
25.4
12
361.9
6
ECPHM 4
482.6
25.4
12
431.8
6
ECPHM 5
533.4
28.6
12
476.2
6
Construction:
In a Plate type Magnetic Chute, the magnets are placed on the doors. The central Magnet is fitted on the hinged door and can be swung out for manual cleaning of arrested iron particles after the batch is over or at a decided frequency of cleaning. The chutes are generally placed vertically on the discharge ducts. However if required it can also be placed horizontally between the material flow lines.
Features:
Magnetic Chutes have following features:
The Plate Type Magnetic Chutes can be installed easily in a flow line.
The Flux density of Plate type magnetic chute (4,500) gauss is also available for 80ᵒC.

High-intensity Bullet Rod Type Magnetic Chute with 9,000 gauss value and maximum operating temperature up to 350ᵒC also available with SMCO (Samarium Cobalt Magnet).

For different flow rates, the magnetic chutes of different sizes are available.
High-Intensity Rare Earth Magnets are used fitting best to the user's requirement.
How does it work?
The plate type magnetic chute is placed in the flow path of the materials passing through the ducts, with the help of flanges. As the material flows through the chute, the iron contamination gets attracted to the magnetic surface and the non-magnetic material flows out of it without any disturbance.
Information required for the design of magnetic chutes:
Size of the duct and the flange with which the chute has to be fixed
Type of material and size of the particle
Size and concentration of contamination
Flow rate
Why PML Magnetic Chute?
60 years of experience in design and development of Permanent Magnets and Magnetic Systems
Magnet Chutes are available with high intensity of 5000 Gauss
Customized Design
Services such as magnetic calibration/Audit are available
Arrested iron particles can be easily removed manually
Some of PML's valued customers:
Kwality Feed
Avanti Feeds
National Capsules limited(NCL)
NG Feeds
Rajdeep Engineering Systems (Pune) Pvt Ltd.
Huber Group
Morava Group
Rida Plastics