Tramp iron separation through magnetic head pulley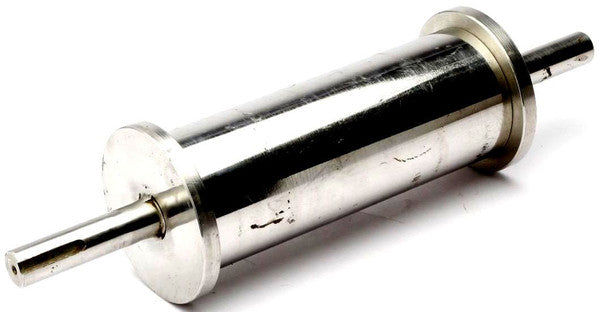 What is Magnetic Pulley?
Magnetic pulleys comprise of a shaft with the magnetic system built on it. Both ends of the shaft are adapted according to clients needs. Permanent magnetic pulleys are ideal magnetic products used as head pulleys in belt conveyors.
How Does it work?
The magnetic field of the pulley attracts the ferrous fines which are held to the belt until it reaches the underside. The separated ferrous materials pass out of the magnetic field and are collected separately into a chute or bin. The cleaned material is discharged normally over the pulley in a vertical drop.
Construction
The magnetic pulley is made up of magnets placed inside a Stainless Steel 304/316 drum shell on a shaft. All shafts are made up of steel and are amply supported to handle the required load. Shafts are carefully machined from oversize stock to required finished dimensions. The magnets are enclosed totally inside the stainless steel drum. These are installed as a head pulley in belt conveyors. The self-cleaning magnetic pulleys are equally effective in the separation of both large and fine particles from non-ferrous material.
Features
The magnetic pulleys can be installed easily at conveyor discharge
They give complete magnetic protection over the entire face of the pulley for removing ferrous contaminants
For different conveyors the magnetic pulleys of different sizes are available
The pulleys either use ceramic magnets or powerful rare earth magnets
General Specification
Flux density: 4500 ± 200 gauss
Attraction Distance: Up to 300mm / 12inches
Maximum operating temperature 450ᵒC
In all pulleys, best grade St. Ferrite/Rear Earth magnets are used for construction. The outer face and the endplates of the magnetic pulley are made out of stainless steel
The magnetic pulley removes contaminants like nuts, bolts, wire, tools, etc.
It protects equipment and product from the hazards of tramp iron
Types
High Intensity – (NdFeb Magnet – 4500 Gauss)
Low Intensity - ( Ferrite Magnet - 1200 Gauss)
Installation
Installation is often very simple. Four bolts on a set of pillow block bearings normally hold the pulley in place. Loosen the conveyor belt, remove the old pulley and install the magnetized pulley. This type of installation does not require electricity.
Buying Tips
Buyer before going for magnetic pulley must keep in mind the following considerations:
The width of the pulley must match with the width of your equipment
The diameter of the pulley and shaft must match the diameter of the equipment
The pulley selected must fit into your conveyor system
Why to buy from PML?
45 years of experience in design and development of Permanent Magnets and Magnetic Systems
Easy to clean and no maintenance cost and preventing expensive shutdown and delays for equipment down the process line
No power cost
Installation of these Pulleys improves product quality thereby enhances product value
Services such as magnetic calibration/Audit are available
PML also makes customized design pulleys
---