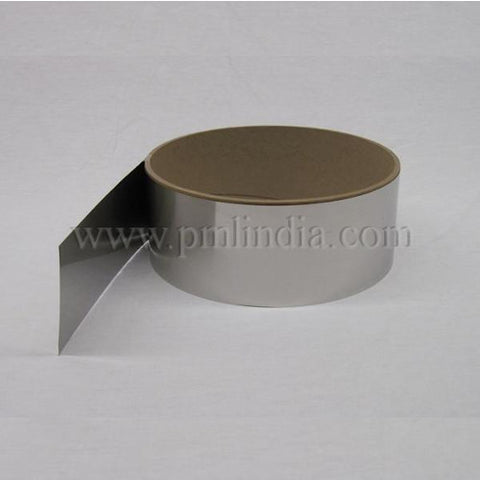 Product Description
MuMETAL® Foil is used primarily in low intensity fields where the highest attenuation, highest initial permeability µ (Mu) and highest shielding efficiency are desired. MuMETAL® Foil is fully annealed and available in stock gauges from 0.002" to 0.010" thickness [0.05 mm to 0.25 mm] .
Foils can be slit to a minimum width of 1/4" (6.35 mm). Foil width tolerance is ±0.010" (0.25 mm).
Unlike MuMETAL® Stress Annealed Sheet, our Foils do not require re-annealing unless severe forming or heliarc welding is performed.
Effect of increasing layers of mumetal foil for mumetal shielding, watch video
Note: Priced per linear foot. Volume discounts available.
MuMETAL® Foil
Item #
Thickness
Width
Price Rs./ ft
1 ft.
50 ft.
100 ft.
250 ft.
500 ft.
1000+ ft.
MU002-8
0.002 in
8.00 in
5450
3627
3261
2933
2642
2375
MU004-8
0.004 in
8.00 in
5803
3970
3573
3220
2898
2613
MU006-8
0.006 in
8.00 in
6169
4325
3898
3514
3167
2857
MU008-8
0.008 in
8.00 in
6633
4774
4303
3882
3504
3163
MU010-8
0.010 in
8.00 in
7271
5377
4851
4373
3946
3562
MU004-12
0.004 in
12.00 in
7978
5955
5366
4833
4356
3929
MU006-12
0.006 in
12.00 in
8529
6491
5853
5277
4756
4292
MU008-12
0.008 in
12.00 in
9223
7157
6457
5825
5255
4741
MU010-12
0.010 in
12.00 in
10183
8066
7279
6567
5929
5353